Thankfully, I have Elvira to function as my makeup conscience. She's much wiser than Jiminy Cricket, though, and she linked me to
the lovely Charlotte's posts about this palette on Lipglossing (her blog!)
. Charlotte did a really interesting experiment with the UD Black Palette; please reference her pictures for a comparison to mine. Before I describe it to you though, let me tell you about the colors housed within the palette:
There is one matte black shade, and five black-based shades (a gold, a green, a blue, a silver, and a purple). The idea is for a high-sparkle colored, smoked look. Ok, great! Sounds good to me.
Now, here's where it gets interesting. Charlotte swatched the six shades over the UDPP Eden base that comes with the palette, and over UDPP regular. The colors were muddy, devoid of sparkle, and completely not worth their $36 price tag. It wasn't until Charlotte used
Fyrinnae Pixie Epoxy
as a base that the colors really shined. The colored sparkles glowed against the black base, and the complexity of each shade came through. Lovely!
In discussing Charlotte's experiment with Elvira, we (mostly Elvira, and I went along with it) came up with an idea: since I'm such a huge Fyrinnae fan, and I really wanted the UD palette, and the UD palette is expensive, and the UD palette isn't even worth the money unless used with Pixie Epoxy...
WE WOULD USE FYRINNAE SHADES TO DUPE THE BLACK PALETTE.
For $12 + $2 shipping (assuming you do mini sizes of each color, and only order the six colors since orders over $20 mean free shipping), you too can own a seriously amazing dupe of the UD Black Palette using the following Fyrinnae eyeshadows. And hell, you don't even need Pixie Epoxy to make the colors look incredible - but it'd be better if you bought it anyway, because it rocks hard.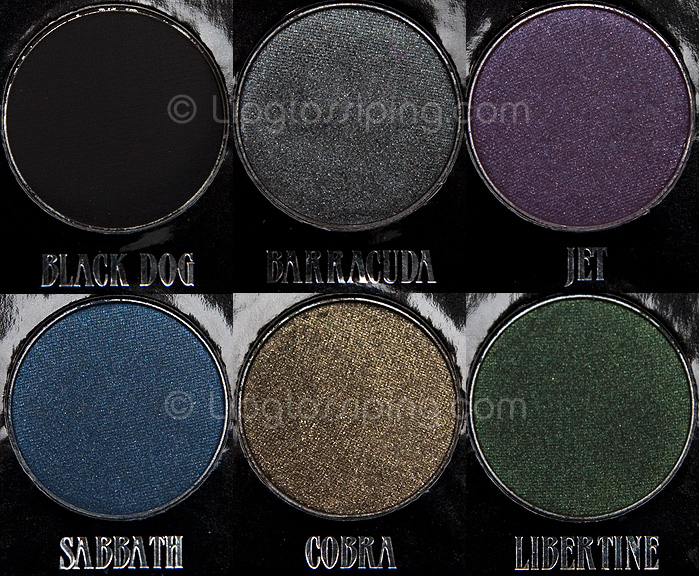 Here are the shades you need to dupe the palette:
(FYI I keep my Fyrinnae shadows in bead cases from Michaels!)
So, here's my attempt to duplicate Charlotte's experiment. I don't have UDPP Eden, but I have UDPP Sin and regular UDPP. Of course, I used the Epoxy as well. I'll leave it up to you, my dear readers, to decide which base brings out the best in each color. I will tell you that I prefer some of the colors over UDPP Sin rather than Pixie Epoxy, but that's only because Pixie Epoxy can really amplify some of the colors. A good example of this is to see how Freya and The Randy Ferret change over the different bases. Also, Pixie Epoxy and matte eyeshadows don't play well - see what happened to Snow White?
Over UDPP Sin Eyeshadow Primer
Over regular UDPP Eyeshadow Primer
Over Fyrinnae Pixie Epoxy
Anyway, after doing this experiment I can in no way justify a purchase of the UD Black Palette. Fyrinnae mini sizes are quite large (it takes an average of 30 uses to finish one), and $12 is 1/3 the price of the palette. Throw in a full-sized Pixie Epoxy for $7 or a sample for $1.50, and you're set! Furthermore, the Fyrinnae colors are much nicer - regardless of what base is used, they all shimmer and shine like they should! Thanks Elvira and Fyrinnae, for never disappointing this happy Bunny.