Thank you to Garrett Wells (from I'm assuming The Redback Garrison in Australia) for creating this great meme.
UPDATE 09/07/12:
An apology has been issued....finally!
in a written statement from Rob Semos,
501st Legion - FL Garrison PR Officer informed me that:
"Brian Troyan - The 501st Legions PR Officer has said, The 501st Legion has officially accepted both the author and the station managers apologies. we have had a very positive phone conversation with the station manager yesterday and we had established a solid line of direct communication between Legion PR and the station."
I would personally like to ask that you do not comment any more on the WPLG Local 10 Facebook and website regarding this situation. The more people harass Local 10, the more the Star Wars fans end up lookin the the bullies we were rallying against.
Thank you,
As of 8AM this morning, a lot has transpired since I originally posted this at 3 PM yesterday.
First of all the WPLG website took the slide show down. Thank goodness. But remember, nothing can ever be truly deleted from the interwebz. Want to still see it, it's out there. You just have to know where to look.
Like right HERE
Thank you to Dave Bouressa for the link.
Just because you take something down from a website doesn't mean it's gone. Amateurs! Plus there were screen shots of the whole debacle stored on the web. Like these ones found in the Facebook group WPLG Local 10 Owes Star Wars Fans a Formal Public Apology. There you can see screen shots of many slides.
So after taking down the offending slide show, and after a few hours of more irate comments on the WPLG Facebook page, the administrator for the WPLG Facebook page issues an "apology".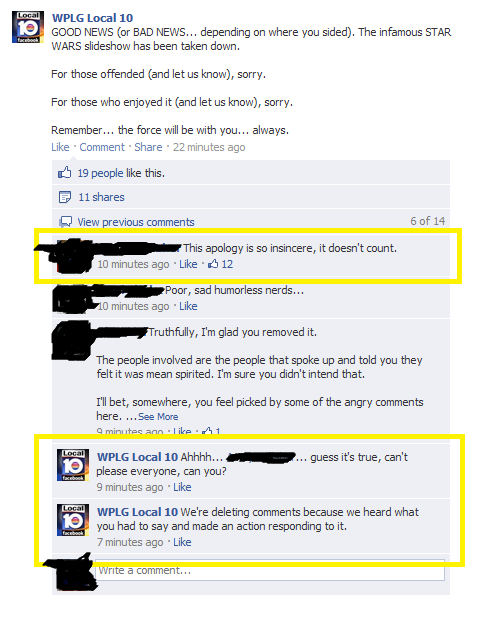 That's not really an apology. It was insincere and smacked of defiance. Like having to apologize because your mom made you do it, but having to say it in front of your buddies so you word it juuuust so. That way you save face with your cool bros and make mom happy too. Only Mom isn't an idiot and reminds you that your apology was BS and calls you on it.
Well you delete the apology of course!
Yup. Only minutes after posting it, WPLG deleted it from their Facebook page. Brilliant! (not)
More irate comments. More outrage at the non-apology. The actual slide show link being active and non active at intermittent times, more anger. a Change.org petition, a Facebook Group, more comments.
click to enlarge
I love WPLG's canned "response". The use of "quotation marks" really "hits home" with me. I "adore" the use of "quotation marks" when completely "unnecessary" In fact. Perhaps I should "refer" this little snippet to the "The "Blog" of "Unnecessary" Quotation Marks". Seriously? This "response" was cut and pasted on several other comments for about an hour.
WPLG is also deleting comments on their Facebook page that are not germaine to other posts. Like for example. when they posted their "Facebook Friend Of The Day" a few people, a friend of mine in particular, pointed out that WPLG is making more enemies than friends. Now what my friend, Natalie, posted was cordial, well written and had no profanities in it. Yet WPLG deleted her comment. WHY?
click to enlarge
Just shameful. NEWS organizations deleting comments that are neither profane or libelous is inconceivable.
I did find out that while WPLG may show NBC programming, it is not part of the NBC News family. So I have amended my post below.
What I did find out, and what embarrasses me even more, is that The Washington Post (my local paper) is affiliated with this sham of a news station. I have e-mailed Washington Post PR to ask exactly what their "Partnership" is with WPLG Local 10. Once I hear back I will amend my tweets and suggestions as to what you can do to help.
This whole "joke" has turned into such a PR disaster for WPLG Local 10 I'm not sure they even know how to recover from it. This would be an excellent lesson for anyone teaching a class on Social Media and what NOT to do. That's for sure.
What to do? Sign the Change.org petition (Added to my "what can you do" list below), then read THIS:
THIS is the type of person that WPLG was making fun of. A heart warming story and there are thousands of other stories like this from members of the 501st.
click to enlarge
ORIGINAL POST 09/05/12
I know this post is not related to makeup, but I would appreciate your attention all the same.
It was recently called to my attention that a ABC affiliate station, WPLG Local 10,posted a slide show on their website making fun of fans that attended the recent Star Wars Celebration 6 in Orlando, Florida. The slide show featured pictures of real people, not celebrities, who had the GALL to attend a Star Wars convention, dressed in their favorite Star Wars costumes. Can you imagine? [insert sarcasm here]. The Slide show commentary refers to the people photographed as geeks (in a snide way), virgins, dateless, losers and a variety of other insults. Here are a few things they wrote as captions for photographs:

"Being a Star Wars geek pretty much means you'll get no lovin'... being a Star Wars geek that wears these pajamas guarantees it."
"These were a group of guys that spent the entire weekend jumping in to other people's pictures. It was MUCH lamer than it sounds."
"Poor kids... they were never given a chance. Geekdom is in their genes."
"Here's a shocker... it's dudes taking pics of the fake Princess Leias. Like they've never seen a woman before. Well, hmmm..."
"A reproduction of their prom picture... no girls."
"Dateless men for as far as they eye can see. "
Disgusting.
Can you imagine the new a-hole I would rip this station if they captioned my son's Boba Fett costume?
This is cyber bullying plain and simple. Cyber bullying is defined as:
a) actions that use information and communication technologies to support deliberate, repeated, and hostile behavior by an individual or group, that is intended to harm another or others.
b) use of communication technologies for the intention of harming another person
c) use of internet service and mobile technologies such as web pages and discussion groups as well as instant messaging or SMS text messaging with the intention of harming another person.
What terrible wrong did the people in the captioned pictures commit? Nothing. They simply attended a convention dedicated to Star Wars. They assumed that were in a safe environment, free from the judgement of people that just don't understand fandom. They were wrong. Apparently WPLG, an ABC affiliate, felt it was acceptable put down people for having fun, expressing their creativity and oh yeah, RAISING $50,150.00 FOR MAKE A WISH!
Yes. That's right. A number of the people this cyber bullying-esque slide show was aimed at are members of the 501st. The 501st is dedicated to brightening the lives of those less-fortunate. Member spend their time and hard earned money into costumes. They drive all over for appearances and spend endless hours volunteering just to bring something special to someone who has very little special things in their lives. And guess what, They do this all with NO RETURN on the investment they have made. One of their most recognized and favorite charities of the 501st is Make-a-Wish. I am extremely proud to say that my husband, Mr. Sith, is a member of the 501st Legion. And even though he recently joined, he has already participated in several events (some of them were at the Star Wars Convention mocked in that slide show) to raise money for various charitable organizations.
My husband, a proud member of the 501st. WPLG mocking others at the convention means they essentially mocked him! Trust me. You do not want to mock him. He's a big dude.
So the question remains. Why did WPLG, an ABC affiliate, think it would be acceptable to ridicule people raising money for sick and terminally ill children? It just goes to show you that this slide show was created and approved by people that have no idea What Star Wars fans are, Who they are, and Why they do what they do. Of course that's just the basis for creating a news story Who, What, Why...but I guess I am expecting too much from such a poorly run station.

Oh but at the end of the slide show there was this little gem:
"And in full disclosure... it should be said that the person who put this slideshow together, and wrote ALL the captions, attended Star Wars Celebration VI (their second Celebration event) as a full-paying fan and lover of all-things Star Wars."

So that makes it OK? Because you have someone that claims to be a fan and attendee of Star Wars Celebration, it's OK to be so mean spirited, insulting and rude? Wrong. A REAL fan would NEVER write such terrible things about other fans. A REAL fan would not put down other fans based on their costumes, or features, gender or perceived sexual status. A REAL fan would not be so cruel. Poking fun and making a few jokes is one thing but using demeaning statements about the people in those photographs is just plain bullying.
You gonna mock me? I have a Hello Kitty Mandalorian Helmet. Therefore your argument is invalid!

Apology issued so nothing more to do at this time. Nothing to see here Move along.